I am SO glad that I found this community!!! Am I the only one in here who actually lives in Utica? LOL! I was born and raised here. Born at St. Lukes Hospital on September 30, 1984...making me 20...soon to be 21, heck yeah!! I live in East Utica and have lived on the same street all my life. I use to live at 1582 St. Vincent Street upstairs with my family, downstairs was my single aunt. I now live down the street at 1556 St. Vincent Street. I know, weird, but my parents chose to do it that way.

I attended the schools: Blessed Sacrament (for Pre-K & Kindergarten...then the school closed) Roosevelt (for 1st grade...then the school closed) Columbus Elementary School (for 2nd grade-5th grade) Donovan Middle School (for 6th grade-9th grade) Proctor High School (for 10th grade-12th grade). I was class of 2003! I went to M.V.C.C. ("Proctor on the hill") and majored in Human Services. I went for a year and then found out I was pregnant. I didn't really like MV all that much. I wasn't a very enthusiastic college student. College wasn't really for me I guess. I doubt I'll go back any time in the future, who knows though. I did attend the M.V.C.C. graduation this year with my friends Shannon and Andy to see our friend Krystle graduate. It was long, boring, and it gave me a headache!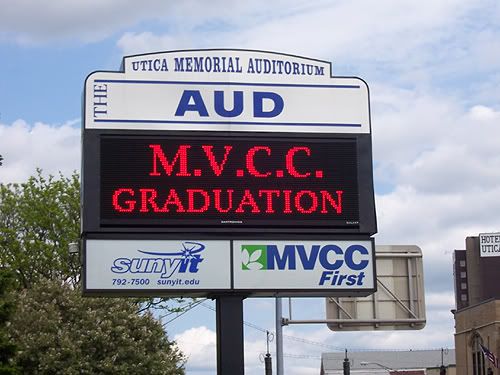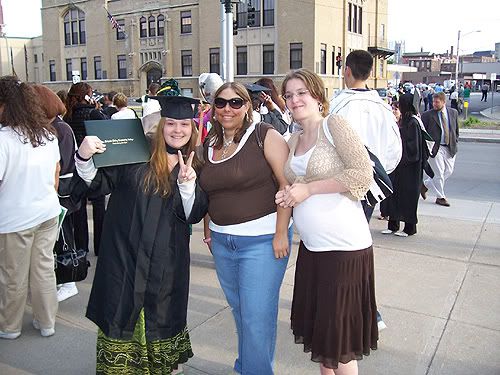 Krystle (the graduate), Me, Shannon

M.V.C.C.'s slogan is "M.V.C.C. did it for me!!"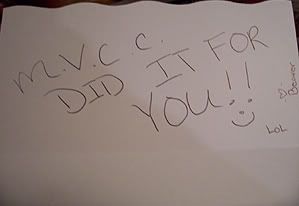 Well, this is what I wrote inside my friend Krystle's card for graduation, LOL!


I have a daughter named Hailey who is now six months old. She was born on December 10, 2004 at St. Lukes Hospital also, since it is now "The Birthplace" and the only hospital in Utica that delivers babies. She was 6 lbs. 14 1/2 oz. and 19 3/4 in. long. She just went for her six month checkup and is now 16 lbs. even and 28 1/4, which means she is off the charts for her height. I am one proud mama, so I usually like to talk about her a lot. I'm still with her father (Rob) of almost two years (January 17, 2004)! He's 26...27 in October.

Rob and I had her early into our relationship. As unplanned as it might of been, it is the most greatest gift we will have ever received in our life! Our own flesh and blood! It is such a wonderful blessing!!

I've kept this entry long enough so if you have any questions, go right ahead and ask me! I LOVE answering questions!! Ask me anything!!! :D